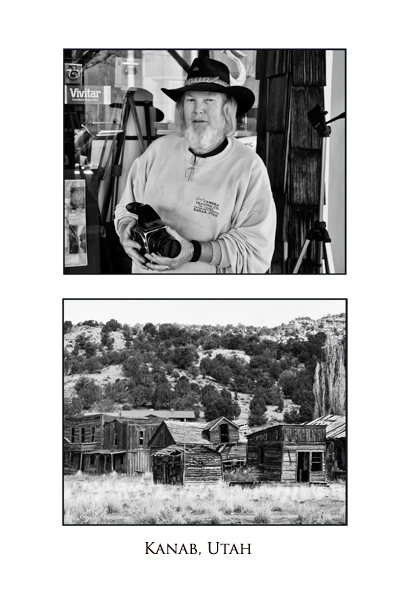 Top: Terry Alderman owns a camera store in Kanab, Utah. After the Yashica stopped working in Antelope Canyon, I stopped at Terry's camera store to see if he could diagnose the problem. He was able to look at the camera on the spot and diagnose the problem. The sign on his door reads:



Open Most Days About 9 or 10
Occasionally as early
as seven, but SOME DAYS
As Late as 12 or 1.
WE CLOSE About 5:30 or 6
Occasionally About 4 or 5
Sometimes as Late as 11 or 12.
SOME DAYS OR Afternoons, We Aren't Here At All, and Lately
I've Been Here Just About All the Time,
Except When I'm Someplace Else,
But I Should Be Here Then, Too.

Bottom: Terry told me that just outside of Kanab is the ruins of the set for the TV series "Gunsmoke." Gunsmoke ran on CBS from September 10, 1955 until March 31, 1975--a total of 635 total episodes. It had one of the longest runs of any primetime American television series.