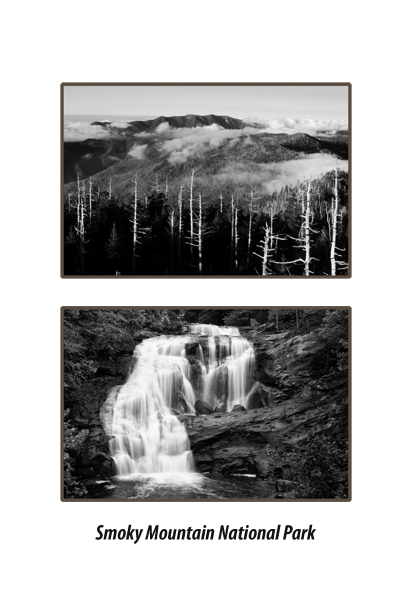 Many American's have seen reproductions of Ansel Adams photographs of America's National Parks, such as the winding Snake River leading your eye to the peaks of the Grand Tetons, the Moon rising over Half Dome at Yosemite, and the Old Faithful Geyser at Yellowstone. The works are the result of a Guggenheim Fellowhip he received in 1946 to photograph every National Park. However, you're unlikely to find Ansel Adams photographs of America's most visited park--the Great Smoky Mountains. Adams only made on trip to the Smokies and found them very difficult to photograph. In an Actober 1948 letter to a friend he wrote, "The Smokys [sic] are OK in their way, but they are going to be devilish hard to photograph...,"

Only four images of this trip were ever published. On a recent visit to Knoxville Museum of Art I was able to see one of the images, named "Dawn, Autumn Forest." As a photographer with experience using a large format camera and former member of the Smoky Mountain Hiking Club, I can understand why Ansel Adams had difficulty photographing the Smokies in 1948. For some of the best views of waterfalls and mountain peaks Adams would have had to lug his bulky equipment on long trails, up creeks, through thick patches of laurel and rhododendron, and hope that he might be lucky and have the right light.

Top: View of Mount Le Conte from Clingman's Dome--the highest point in the Park.

Bottom: Bald River Falls is just outside of the Smoky Mountain National Park in the Cherokee National Forest.