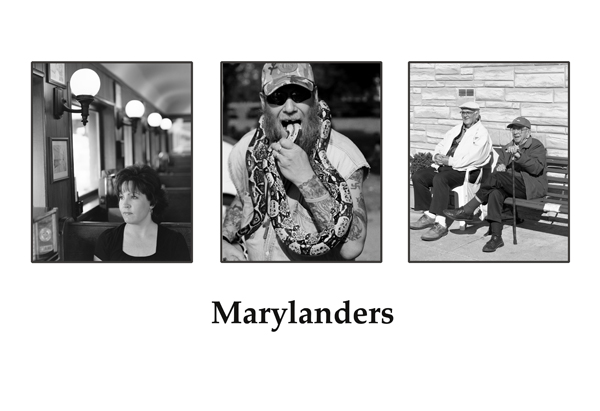 Left: I spoke with the manager of the Tastee Diner in Bethesda, Maryland to get permission for the interior shoot. We agreed to Friday afternoon, before 5:30--a slow time before the crowd picks up for the Lenten fish special. Based on my past experience, I expected to be served by a venerable woman with blue bouffant hair and brightly-colored eye make-up. Instead, I was greeted by the perky Marggie Aldridge. Marggie has been working as a waitress at the Tastee Diner for about three years--practically a newbie. Marggie used to work at a hair salon, but she said that the Tastee Diner pays better. Although Marggie represents a new generation, she continues to carry on the traditions of the classic Tastee Diner waitress. "Will that be all, Hon."

Middle: This man was one of many interesting people I met at the Ukranian Festival in Baltimore. As the photograph shows, he went to extreme measures to demonstrate that his pet python was well behaved.

Right: Dominic Leonardi and Michael Trombetta sit together on their usual bench at their usual corner enjoying the unusually warm Saturday morning in early Spring. Dominic and Michael were born in Little Italy 85 years ago and have passed their time nowhere else. Dominic shared stories of youthful mischief in the only neighborhood he has ever known. Michael was very proud of the fact that House speaker, Nancy Pelosi, grew up in the neighborhood. Many of the residents of Little Italy are older because the younger generations moved out to the suburbs and never looked back. Dominic said that a woman down the street just passed away--she was 104. Why do people live so long in this neighborhood? Dominic says, "There must be something in the water."